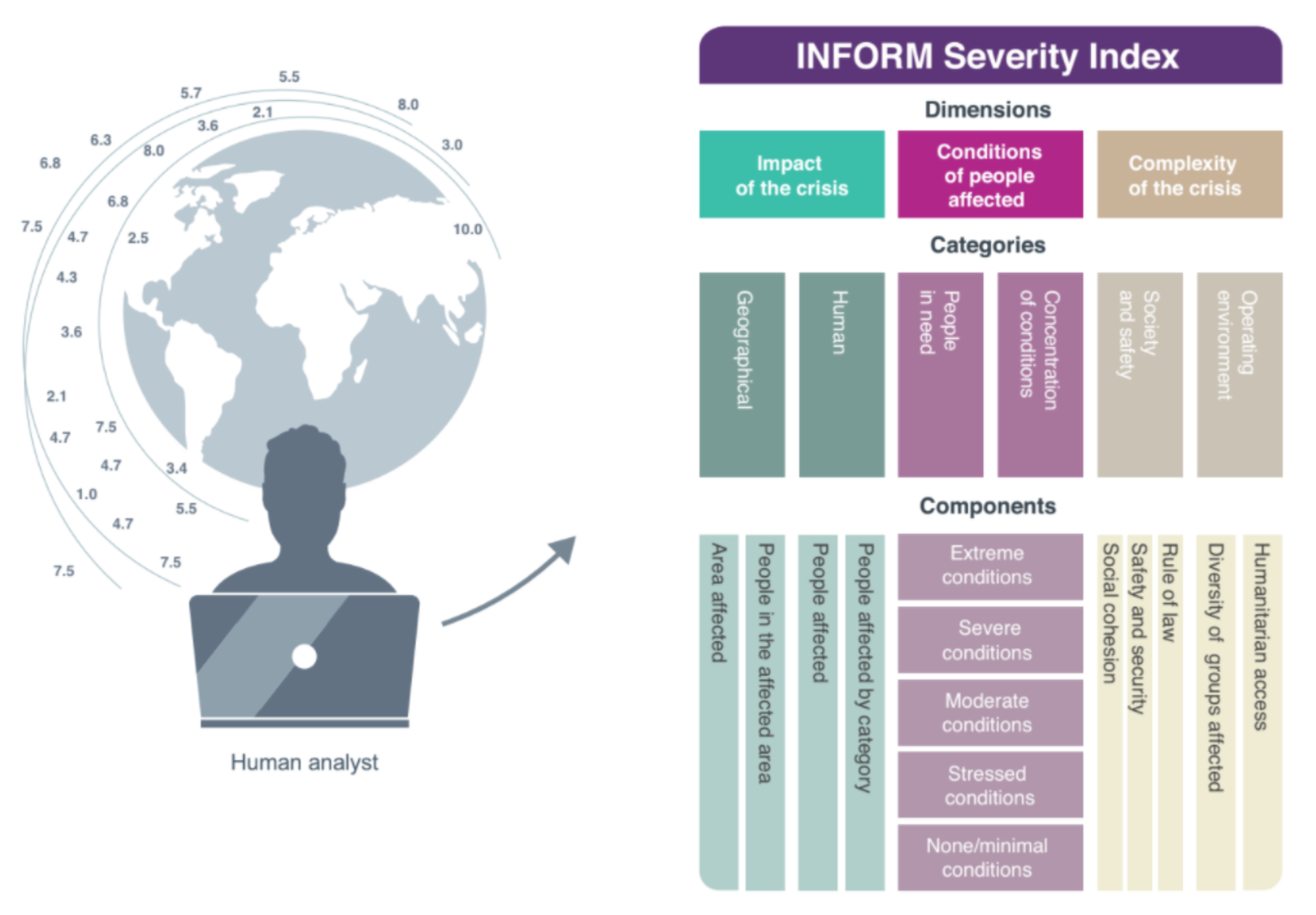 The INFORM Severity Index is a regularly updated and easily interpreted model coherent with other types of ACAPS severity analyses at the local and subnational levels. It enables comparisons of scale and severity of crises across the world, assesses the level of humanitarian access in various contexts, and investigates the level of humanitarian needs for certain population groups.
Not all are equally affected by a crisis
The INFORM Severity Index aggregates information from a range of credible publicly available sources and provides a reliability level estimate for each crisis. It also provides information on the 'distribution of severity' (i.e. the number of people that fall into different categories of severity within the same crisis, which constitutes the second pillar of the model). Not all people affected by a crisis are equally affected, with different levels of need requiring different responses. This distribution is important in understanding the overall severity of a crisis.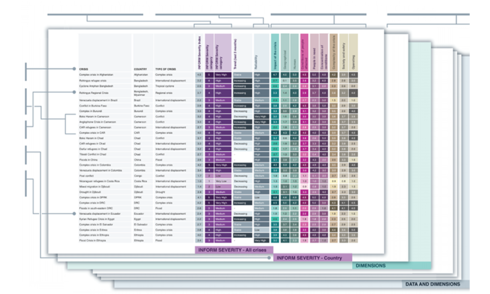 The INFORM Severity Index is a composite index bringing together 31 core indicators organised in three dimensions: impact, conditions of affected people, and complexity. All the indicators are scored on a scale of 1–5. These scores are then aggregated into components, the three dimensions, and their overall severity category based on the analytical framework.
The weight assigned to each dimension depends on its contribution to severity: impact of the crisis (20%), conditions of affected people (50%), complexity (30%). Currently, these weights are the best estimates and will be refined using expert analysis and statistical methods. Based on its score, each crisis will fall into one of five categories (ranging from very low to high).
Adding a crisis
We consider adding a crisis to our portfolio if it meets the following inclusion criteria:
The number of people affected is at least 30,000 or

The number of people affected is at least 1% of the population of the country, and the number of people in need is at least 10,000.
Removing a crisis
For sudden-onset disasters, we remove a crisis after six weeks if there are no updates on needs.
For protracted crises, there are no set thresholds.
The analysis team makes decisions on an ad hoc basis.
"Donors were motivated, because of the shortcomings of existing information products, to increasingly rely on tools created outside the UN-led system, such as ACAPS' severity index, described by one donor as part of its 'objective algorithm' for determining needs-based funding priorities."