Latest updates on
country situation
03 May 2023
Since early March 2023, heavy rains resulting from the El Niño coastal phenomenon have resulted in flooding and landslides in the northern coastal areas and city of Lima in Peru. As at 3 May, the rains had affected more than 520,000 people and destroyed almost 30,000 homes, with numbers expected to rise in the coming days. Current climate predictions forecast heavy rains in the next few weeks, which could affect the emergency response and increase levels of need. The main needs are food, access to safe water, sanitation, health services (especially to prevent vector-borne diseases), protection, and livelihoods. Damage to schools has left at least 95,000 children and adolescents without access to education. The affected area also includes a transit area for Venezuelans travelling to Ecuador, but the number of Venezuelans affected remains unknown. Damage to roads and bridges is restricting humanitarian access to some areas. (OCHA 03/05/2023, AECID 03/05/2023, EuroesEuro 06/05/2023).
08 April 2023
Heavy rains since early March and the passage of Cyclone Yaku have caused flooding and landslides in Peru, especially in the northern coastal area and Lima city.
As at 6 April, some 241,000 people have been affected and at least 95,000 homes and 275 health centres have been damaged or destroyed. Although the number of Venezuelans affected is unknown, Tumbes, the main entry point for Venezuelans travelling from Ecuador was affected by the floods. Urgent humanitarian needs include access to safe drinking water and the repair of water distribution systems, as there is an increased risk of waterborne diseases and malaria. 63,000 hectares of crops have been affected or lost. Some roads have been damaged, so access to the north is restricted.

(UNICEF 08/04/2023, Infobae accessed 11/04/2023)
current crises


in Peru
---
These crises have been identified through the INFORM Severity Index, a tool for measuring and comparing the severity of humanitarian crises globally.
PER002 - Venezuelan refugees
Last updated 30/08/2023
---
REG002 - Venezuela Regional Crisis
Last updated 17/05/2023
---
Analysis products


on Peru
16 December 2021
Peru: Earthquake in the Amazon region
DOCUMENT / PDF / 2 MB
On 28 November 2021, an earthquake occurred in the district of Barranca, Datem del Marañón province, department of Loreto. Over 5,100 houses, 518 schools, and 71 hospitals were affected. The earthquake has destroyed several roads and caused the Utcubamba River to overflow.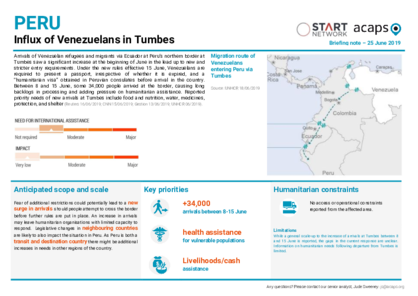 25 June 2019
Peru: Influx of Venezuelans in Tumbes
DOCUMENT / PDF / 434 KB
Arrivals of Venezuelan refugees and migrants via Ecuador at Peru's northern border at Tumbes saw a significant increase at the beginning of June in the lead up to new and stricter entry requirements. Between 8 and 15 June, some 34,000 people arrived at the border, causing long backlogs in processing and adding pressure on humanitarian assistance.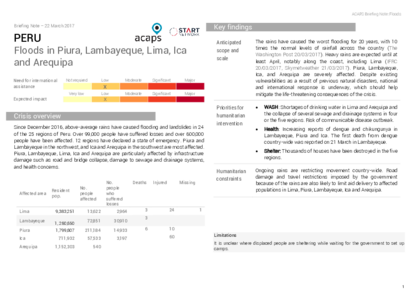 22 March 2017
Peru: floods
DOCUMENT / PDF / 340 KB
Since December 2016, above-average rains have caused flooding and landslides in 24 of the 25 regions of Peru. Over 99,000 people have suffered losses and over 600,000 people have been affected. 12 regions have declared a state of emergency. Piura and Lambayeque in the northwest, and Ica and Arequipa in the southwest are most affected.
View more