current crises


in Papua New Guinea
---
These crises have been identified through the INFORM Severity Index, a tool for measuring and comparing the severity of humanitarian crises globally.
PNG003 - Highlands Violence
Last updated 30/11/2023
---
Severity level
2.5 Medium
Analysis products


on Papua New Guinea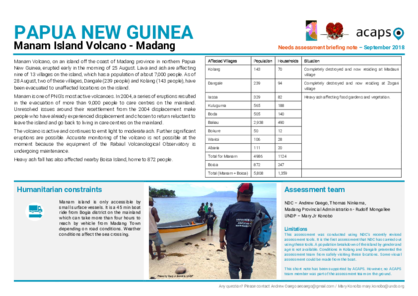 07 September 2018
Papua New Guinea: Manam Island Volcano
DOCUMENT / PDF / 668 KB
Manam Volcano, on an island off the coast of Madang province in northern Papua New Guinea, erupted early in the morning of 25 August. Lava and ash are affecting nine of 13 villages on the island, which has a population of about 7,000 people. As of 28 August, two of these villages, Dangale (239 people) and Kolang (143 people), have been evacuated to unaffected locations on the island.
22 May 2018
Papua New Guinea: Dandan Centre Needs Assessment
DOCUMENT / PDF / 811 KB
On 5 January, volcanic activity on Kadovar Island, one of the six Schouten Islands of Papua New Guinea, prompted all 591 residents to evacuate. The islanders have been relocated to the Dandan Care centre, located in Turubu LLG (East Sepik Province).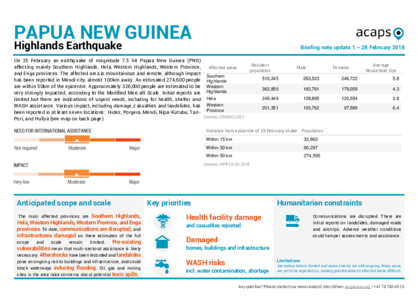 01 March 2018
Papua New Guinea: Highlands Earthquake
DOCUMENT / PDF / 852 KB
On 25 February an earthquake of magnitude 7.5 hit Papua New Guinea affecting mainly Southern Highlands, Hela, Western Highlands, Western Province, and Enga provinces. The affected area is mountainous and remote, although impact has been reported in Mendi city, almost 100km away. An estimated 274,600 people are within 50km of the epicentre.
View more