Latest updates on
country situation
18 August 2023
Panama recorded nearly 252,000 migrants crossing the Darién jungle between January–July 2023, exceeding the record high for the entire 2022. July 2023 marked the second-highest monthly crossing in history, with nearly 14,000 women and around 12,500 children and adolescents crossing the jungle. This figure is also the highest monthly migration recorded for these groups. Most of the migrants are malnourished and poorly equipped at the beginning of their journeys, making minor illnesses life-threatening in the treacherous jungle environment. The migrants are also vulnerable to attacks by armed groups and bandits, increasing the risk of injuries, deaths, and rape or sexual assault. The migrants need drinking water and food, shelter, essential items such as mosquito nets, blankets, and solar lamps, hygiene kits and adequate sanitation services, healthcare services, spaces for self-care for women and adolescent girls, and psychosocial support and child protection through child-friendly spaces for children. (WOLA 18/08/2023, ACAPS 19/04/2023, UNICEF 03/08/2023)
28 June 2023
Between January–April 2023, 127,000 migrants (mainly Venezuelans) crossed into the Darién jungle from the municipality of Necoclí, Colombia. This figure represents an increase of five times more than the same period in 2022. Migrants in transit need shelter, protection, access to drinking water and food, and adequate hygiene and sanitation. (OCHA 20/06/2023, MSF 28/06/2023)
25 March 2023
Between 9–16 March, at least 8,819 migrants, mainly Venezuelans, crossed into the Darién jungle from the municipality of Necoclí, Colombia. This figure is an increase of 12% compared to the previous week. Migrants in transit need shelter, protection, medical services, water, and food. By the end of 2023, it is estimated that 400,000 people will have crossed the Darien jungle.
(UNHCR 20/03/2023), (R4V 25/03/2023)
current crises


in Panama
---
These crises have been identified through the INFORM Severity Index, a tool for measuring and comparing the severity of humanitarian crises globally.
PAN002 - Venezuelan refugees
Last updated 21/08/2023
---
Severity level
2.3 Medium
REG002 - Venezuela Regional Crisis
Last updated 17/05/2023
---
Analysis products


on Panama
19 April 2023
Panama: Increase in migrant traffic through the Darien Gap
DOCUMENT / PDF / 930 KB
Between January and 13 April 2023, an estimated 100,000 people crossed the Darien Gap. This figure represents about six times the number of people who crossed during the same time period in 2022. If this trend continues, UNHCR and IOM estimate that by the end of the year, around 400,000 people would have passed through this region.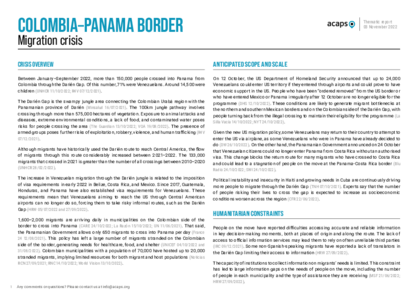 02 November 2022
Panama-Colombia border: migration crisis
DOCUMENT / PDF / 293 KB
Between January–September 2022, more than 150,000 people crossed into Panama from Colombia through the Darién Gap. Although migrants have historically used the Darién route to reach Central America, the flow of migrants through this route considerably increased between 2021–2022.
View more