Latest updates on
country situation
current crises


in Malawi
---
These crises have been identified through the INFORM Severity Index, a tool for measuring and comparing the severity of humanitarian crises globally.
MWI005 - Tropical Cyclone Freddy
Last updated 31/08/2023
---
Severity level
2.9 Medium
MWI002 - Complex
Last updated 31/08/2023
---
Drivers
Drought
Socio-political
Cyclone

REG012 - Southern Africa Regional Food Security Crisis
Last updated 31/08/2023
---
Analysis products


on Malawi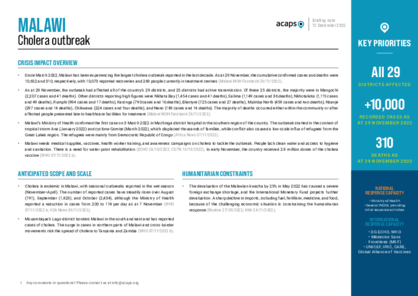 12 December 2022
Malawi: cholera outbreak
DOCUMENT / PDF / 403 KB
Since March 2022, Malawi has been experiencing the largest cholera outbreak reported in the last decade. Malawi needs medical supplies, vaccines, health worker training, and awareness campaigns on cholera to tackle the outbreak. People lack clean water and access to hygiene and sanitation.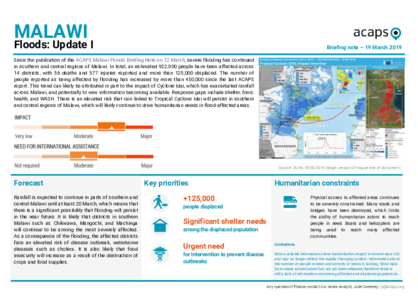 19 March 2019
Malawi: Floods, Update I
DOCUMENT / PDF / 386 KB
Since our last publication, severe flooding has continued in southern and central regions of Malawi. In total, an estimated 922,900 people have been affected across 14 districts, with 56 deaths and 577 injuries reported and more than 125,000 displaced.
View more