Latest updates on
country situation
15 June 2023
Access constraints restricting migrant rescue ships in Italian waters have recently increased, with incidents of Italian authorities detaining ships. Two ships faced detention for 20 days starting 2 June 2023, and a third ship faced another 20-day detention on 15 June for breaching new regulations imposed in January specifying the allowable number of rescue operations and ports to use. The constraints will likely hinder rescue operations for people stranded at the Mediterranean Sea. (Info Migrants 05/06/2023, Al Jazeera 03/06/2023, Info Migrants 16/06/2023)
current crises


in Italy
---
These crises have been identified through the INFORM Severity Index, a tool for measuring and comparing the severity of humanitarian crises globally.
ITA002 - Mixed Migration
Last updated 30/11/2023
---
Severity level
2.1 Medium
REG007 - Central Mediterranean Route
Last updated 30/11/2023
---
Severity level
2.9 Medium
Analysis products


on Italy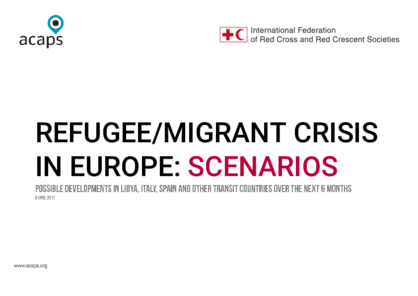 07 April 2017
Humanitarian Response Plan 2022
DOCUMENT / PDF / 901 KB
ACAPS and the International Federation of Red Cross and Red Crescent Societies have produced a new set of Central and West Mediterranean migration scenarios, outlining possible developments in migration via Libya, Italy, Spain and other transit countries over the next six months.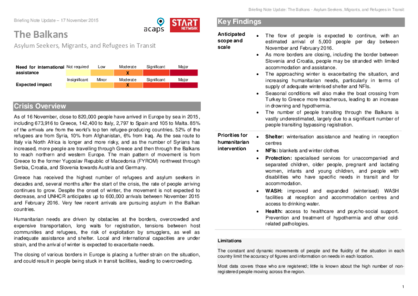 18 March 2016
The Balkans: Asylum Seekers, Migrants, and Refugees in Transit
DOCUMENT / PDF / 777 KB
As of 16 November, close to 820,000 people have arrived in Europe by sea in 2015. 85% of the arrivals are from the world's top ten refugee-producing countries. As the sea route to Italy via North Africa is longer and more risky, and as the number of Syrians has increased, more people are travelling through Greece and then through the Balkans to reach northern and western Europe.
View more