Latest updates on
country situation
23 May 2023
The Democratic People's Republic of Korea is likely facing a food crisis caused by worsening shortages resulting from long-term border closures, adverse weather, and economic sanctions. In March 2023, the country requested assistance from WFP, which could not be provided given disagreements around access. Before the COVID-19 border closures (2019–2021), approximately 42% of the population were malnourished, and an estimated 11–16 million people (40–60% of the population) were food-insecure. In 2022, the number of food-insecure people was estimated to increase to 60% of the population. In the same year, agricultural output declined by 3.8%, with adverse weather significantly affecting crops, especially rice production (which declined by 4.2%). Trade with China decreased by up to 90% in 2021 compared to 2019. The current situation is likely dire, as the lack of imports, including agricultural inputs, and the decline in food production have created significant price increases and food scarcity. Continued access restrictions make assessment data difficult to obtain.
(RFA 23/05/2023,
RDA South Korea 15/12/2022,
GRFC 2023)
current crises


in DPRK
---
These crises have been identified through the INFORM Severity Index, a tool for measuring and comparing the severity of humanitarian crises globally.
PRK001 - Complex crisis
Last updated 30/08/2023
---
Drivers
Socio-political
Floods
Other seasonal event
Food Security

Analysis products


on DPRK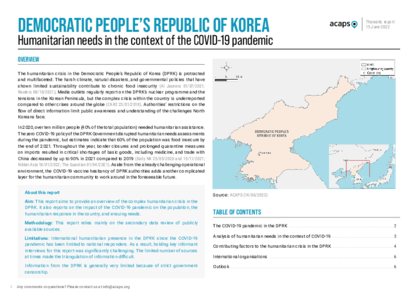 15 June 2022
DPRK: Humanitarian needs in the context of COVID-19
DOCUMENT / PDF / 714 KB
This report aims to provide an overview of the complex humanitarian crisis in the DPRK. It also reports on the impact of the COVID-19 pandemic on the population, the humanitarian response in the country, and ensuing needs.
13 September 2016
DPRK: floods
DOCUMENT / PDF / 336 KB
Major flooding in northeastern DPRK, primarily in North Hamgyong province, has affected 600,000 people, left 140,000 in urgent need of assistance, and displaced 107,000. 395 people are missing, and 133 have died. Considerable damage to vital health, water, and transport infrastructure leaves much of the affected population without shelter and vulnerable to waterborne diseases and food insecurity.
View more