current crises


in Dominican Republic
---
These crises have been identified through the INFORM Severity Index, a tool for measuring and comparing the severity of humanitarian crises globally.
DOM002 - Venezuelan refugees
Last updated 31/07/2023
---
REG002 - Venezuela Regional Crisis
Last updated 17/05/2023
---
Analysis products


on Dominican Republic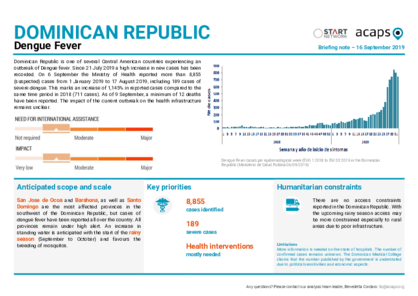 16 September 2019
Dominican Republic: Dengue fever
DOCUMENT / PDF / 278 KB
Dominican Republic is one of several Central American countries experiencing an outbreak of Dengue fever. Since 21 July 2019 a high increase in new cases has been recorded. On 6 September the Ministry of Health reported more than 8,855 (suspected) cases from 1 January 2019 to 17 August 2019, including 189 cases of severe dengue.
View more