Latest updates on
country situation
25 July 2023
From July–December 2023, 285,000 people (24% of those analysed) are expected to face Crisis (IPC Phase 3) or worse acute food insecurity levels – a 33% increase from the same period in 2022. Low purchasing power and limited livelihood opportunities result in poor diet in rural areas, affecting even refugees. (IPC 02/06/2023, IPC 04/05/2022)
02 June 2023
Between March–June 2023, an estimated 250,000 people (21% of the population analysed) will face high food insecurity levels – i.e. Crisis (IPC Phase 3) or worse. This includes 86,000 people (7% of the population) facing Emergency (IPC Phase 4) food insecurity. These figures indicate a 47% increase in highly food-insecure people compared to the same period in 2022. The crisis will hit rural regions the hardest, with the high prevalence of food insecurity in these regions resulting from various factors, such as insufficient diets, low purchasing power, and restricted income-generating opportunities. From January–December 2023, more than 33,000 cases of acute malnutrition are expected among children between 6–59 months old, as well as 2,900 cases affecting pregnant and lactating women. Among the affected children, over 5,500 cases are anticipated to suffer from severe acute malnutrition. Those affected will need food, nutrition, shelter, health, and WASH services. (IPC 02/06/2023, IPC 04/05/2022)
current crises


in Djibouti
---
These crises have been identified through the INFORM Severity Index, a tool for measuring and comparing the severity of humanitarian crises globally.
DJI001 - Country level
Last updated 31/08/2023
---
Drivers
Displacement
Drought

Severity level
2.9 Medium
DJI002 - Mixed Migration
Last updated 31/08/2023
---
DJI003 - Drought
Last updated 31/08/2023
---
Severity level
2.8 Medium
Analysis products


on Djibouti
10 March 2023
Djibouti: Drought
DOCUMENT / PDF / 781 KB
In Djibouti, drought is affecting around 200,000 people. The current drought started in 2020 and has continued with five below-average rainy seasons. As at October 2022, about 72,000 people, including 29,000 children, were in need of humanitarian assistance as a result of the drought. The crisis has displaced approximately 6,000 people.
Attached resources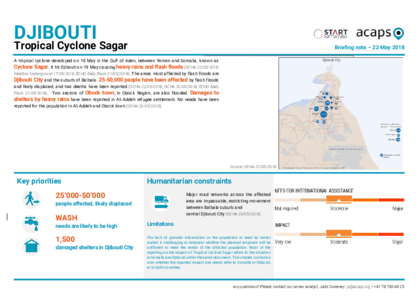 22 May 2018
Djibouti: Tropical Cyclone Sagar
DOCUMENT / PDF / 322 KB
A tropical cyclone developed on 16 May in the Gulf of Aden, between Yemen and Somalia, known as Cyclone Sagar. It hit Djibouti on 19 May causing heavy rains and flash floods. The areas most affected by flash floods are Djibouti City and the suburb of Balbala. 25-50,000 people have been affected by flash floods and likely displaced.
View more