Analysis products


on Côte d'Ivoire
15 March 2023
Côte d'Ivoire: Displacement from Burkina Faso
DOCUMENT / PDF / 366 KB
Insecurity and attacks from non-state armed groups in Burkina Faso have reportedly forced entire villages to flee, with many crossing the border into neighbouring Côte d'Ivoire to seek safety. According to the National Security Council of Côte d'Ivoire, as at 2 Feburary, roughly 8,700 people from Burkina Faso had newly sought refuge in the country.
Attached resources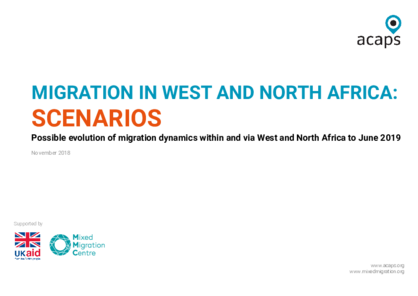 30 November 2018
Migration in West and North Africa
DOCUMENT / PDF / 855 KB
These scenarios consider how migration dynamics within and via West and North Africa (including across the Mediterranean Sea) might evolve in the first half of 2019 and the potential humanitarian consequences. The aim is to support strategic planning, create awareness and promote preparedness activities for policymakers and other actors working on migration.
View more