Latest updates on
country situation
22 November 2023
Drought is currently affecting an estimated 600,000 people in Amazonas state. As at 30 October 2023, 60 of the 62 municipalities in the state had been declared to be facing emergency drought levels. The drought is driven by El Niño, combined with deforestation and the above-average warming of the water in the northern Atlantic Ocean. As a result, the water levels in the Rio Negro River are the lowest in 120 years, affecting people's access to services, including food, healthcare, and education. The affected population are left isolated, driving displacement, as the people often use the river to transport basic food and medicine, as well as passengers to where there are available services, such as schools and health facilities. About 12,300 people (3,000 families) are displaced and staying in emergency shelters. Clean drinking water is needed, as wells have dried up and water pumps are not functioning. (UNICEF 25/10/2023, PAHO 31/10/2023, Nature 14/11/2023)
29 October 2023
Heavy rainfall since 3 October 2023 has been affecting 138 municipalities in Santa Catarina state, southern Brazil. The rains have killed at least two people and displaced 26,500, mostly from Blumenau, Lontras, Rio do Sul, and Tubarao municipalities. Displaced people likely need shelter, clean water, and food. (ECHO 12/10/2023, ECHO 19/10/2023)
19 September 2023
An extratropical cyclone, with heavy rainfall, strong winds, and hailstorms, have affected at least 354,000 people in Brazil. The cyclone has mainly affected southern Brazil, specifically Santa Catarina and Rio Grande do Sul states, since 4 September. As at 14 September, there were nearly 50 dead, 940 injured, and over 25,000 displaced people recorded. Increased river water levels have restricted access to the affected areas from Porto Alegre city, limiting aid delivery. Some areas are isolated in Rio Grande do Sul, which has experienced the passage of four cyclones since June 2023. The weather event has likely affected agriculture and the livelihoods of those working in the sector. Assessments of the needs of the affected population have not been conducted, but they are likely to include shelter, clean water, and food.
(PAHO 15/09/2023, OCHA 11/09/2023, Clarin 05/09/2023)
current crises


in Brazil
---
These crises have been identified through the INFORM Severity Index, a tool for measuring and comparing the severity of humanitarian crises globally.
BRA004 - Drought in the Amazonas
Last updated 30/11/2023
---
Severity level
2.3 Medium
BRA001 - Country level
Last updated 30/11/2023
---
Drivers
Displacement
Floods

Severity level
2.6 Medium
BRA003 - Floods
Last updated 24/11/2023
---
BRA002 - Venezuelan refugees
Last updated 24/11/2023
---
Severity level
2.3 Medium
REG002 - Venezuela Regional Crisis
Last updated 17/05/2023
---
Analysis products


on Brazil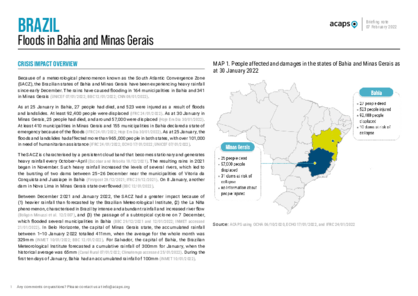 04 February 2022
Brazil: Floods in Bahia and Minas Gerais
DOCUMENT / PDF / 510 KB
Because of a meteorological phenomenon known as the South Atlantic Convergence Zone, the Brazilian states of Bahia and Minas Gerais have been experiencing heavy rainfall since early December. The rains have caused flooding in 164 municipalities in Bahia and 341 in Minas Gerais. As at 25 January, more than 965,000 people in both states are affected.
08 June 2017
Brazil: Floods in Pernambuco and Alagoas
DOCUMENT / PDF / 126 KB
In the last week of May, heavy rainfall and flooding were registered across the states of Pernambuco and Alagoas in northern Brazil. In Pernambuco, 24 out of 185 municipalities have declared state of emergency: 55,000 have been displaced and up to 2.2 million temporarily affected by damage to WASH infrastructure. In Alagoas, the highest estimates are of 16,000 people displaced and 27 out of 102 municipalities in state of emergency.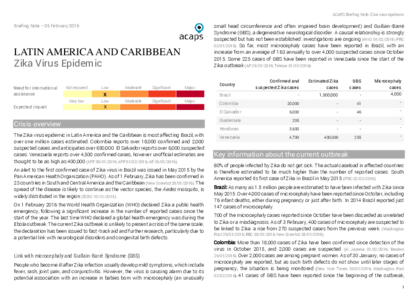 18 March 2016
Latina America and Caribbean: Zika Virus Epidemic
DOCUMENT / PDF / 166 KB
The Zika virus epidemic in Latin America and the Caribbean is most affecting Brazil, with over one million cases estimated. Colombia reports over 18,000 confirmed and 2,000 suspected cases and anticipates over 650,000. El Salvador reports over 6,000 suspected cases. Venezuela reports over 4,500 confirmed cases, however unofficial estimates are thought to be as high as 400,000.
View more