Explore our
analysis products


archive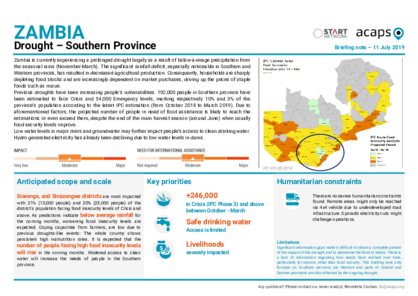 11 July 2019
Zambia: drought in the Southern province
DOCUMENT / PDF / 493 KB
Zambia is currently experiencing a prolonged drought largely as a result of below-average precipitation from the seasonal rains (November-March). The significant rainfall deficit, especially noticeable in Southern and Western provinces, has resulted in decreased agricultural production. Consequently, households are sharply depleting food stocks and are increasingly dependent on market purchases, driving up the prices of staple foods such as maize.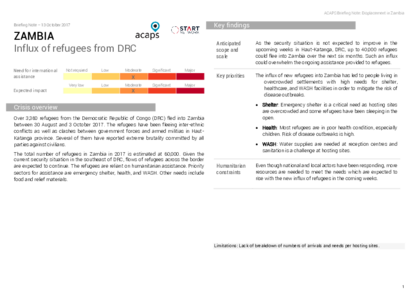 13 October 2017
Zambia:Influx of refugees from DRC
DOCUMENT / PDF / 307 KB
Over 3,360 refugees from the Democratic Republic of Congo fled into Zambia between 30 August and 3 October 2017. The refugees have been fleeing inter-ethnic conflicts as well as clashes between government forces and armed militias in Haut-Katanga province. Several of them have reported extreme brutality committed by all parties against civilians.