Explore our
analysis products


archive
30 March 2023
Tanzania: Refugee influx from the Democratic Republic of Congo
DOCUMENT / PDF / 268 KB
More than 2,600 refugees and asylum seekers from the Democratic Republic of Congo (DRC) entered Tanzania between 5–14 March to flee from the escalation of clashes between the March 23 Movement (M23) and the Congolese army in Kivu region. The immediate needs reported are food, WASH, shelter, and healthcare.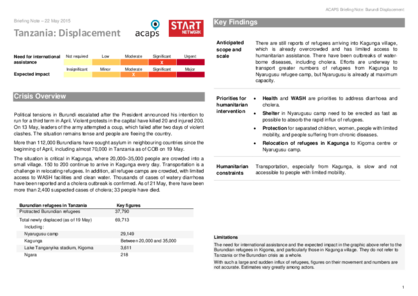 18 March 2016
Tanzania: Displacement from Burundi
DOCUMENT / PDF / 487 KB
Political tensions in Burundi escalated after the President announced his intention to run for a third term in April. Violent protests in the capital have killed 20 and injured 200. On 13 May, leaders of the army attempted a coup, which failed after two days of violent clashes. The situation remains tense and people are fleeing the country.