Explore our
analysis products


archive
22 December 2022
Ripple effects of the conflict in Ukraine: truths and myths
DOCUMENT / PDF / 4 MB
This report provides a commentary on relevant datasets as it examines trends related to the economic effects of the 2022 Russian invasion of Ukraine on selected countries in the Middle East, Africa, and Asia.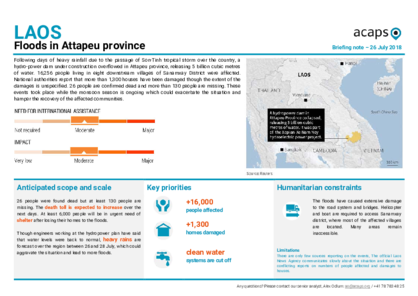 26 July 2018
Laos: Floods in Attapeu province
DOCUMENT / PDF / 306 KB
Following days of heavy rainfall due to the passage of Son-Tinh tropical storm over the country, a hydro-power dam under construction overflowed in Attapeu province, releasing 5 billion cubic metres of water. 16,256 people living in eight downstream villages of Sanamxay District were affected. Around 223 houses were partially damaged and at least 20 are completely damaged.