Analysis products


on Vietnam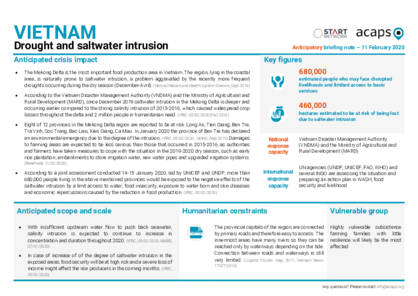 13 February 2020
Vietnam: Drought and saltwater intrusion
DOCUMENT / PDF / 227 KB
The Mekong Delta is the most important food production area in Vietnam.Eight of twelve provinces in the Mekong Delta region are reported to be at risk. In January 2020 the province of Ben Tre has declared an environmental emergency due to the degree of the intrusion.
09 November 2017
Vietnam: Tropical Storm Damrey
DOCUMENT / PDF / 459 KB
Tropical Storm (Category 4) Damrey made landfall in Vietnam on the morning of 4 November along the south-central coastal region, particularly affecting Khanh Hoa province. Over 1,300 homes have been destroyed and over 122,000 partially damaged. An estimated 500,000 people have been affected in these provinces and 24,000 remain displaced in evacuation centres.
View more