current crises


in Vanuatu
---
These crises have been identified through the INFORM Severity Index, a tool for measuring and comparing the severity of humanitarian crises globally.
VUT003 - Cyclone Judy and cyclone Kevin
Last updated 30/07/2023
---
Severity level
2.3 Medium
Analysis products


on Vanuatu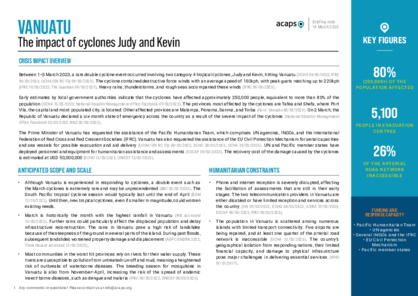 14 March 2023
Vanuatu: the impact of cyclones Judy and Kevin
DOCUMENT / PDF / 411 KB
Between 1–3 March 2023, a rare double cyclone event occurred involving two category 4 tropical cyclones, Judy and Kevin, hitting Vanuatu. Early estimates by local government authorities indicate that the cyclones have affected approximately 250,000 people, equivalent to more than 80% of the population.
Attached resources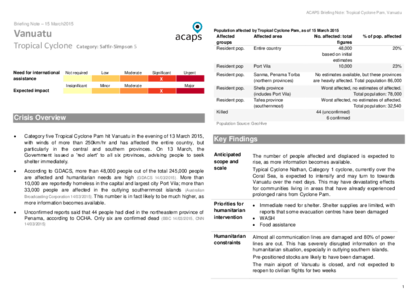 15 March 2016
Vanuatu: Tropical cyclone
DOCUMENT / PDF / 669 KB
Category five Tropical Cyclone Pam hit Vanuatu in the evening of 13 March 2015, with winds of more than 250km/hr and has affected the entire country, but particularly in the central and southern provinces. On 13 March, the Government issued a 'red alert' to all six provinces, advising people to seek shelter immediately.
View more