Latest updates on
country situation
30 May 2023
A snowstorm swept across eastern Mongolia from 19–20 May 2023, mostly affecting Dornod, Khentii, and Sukhbaatar provinces. It damaged or destroyed buildings, vehicles, and power infrastructure. As at 25 May, more than 620,000 (over 521,000 in Sukhbaatar and 107,000 in Khentii) livestock had died. The affected population needs shelter, livelihoods, and healthcare support. (IFRC 30/05/2023)
current crises


in Mongolia
MNG001 - Multiple crises
Last updated 31/07/2023
---
Drivers
Other seasonal event
Floods

Severity level
2.2 Medium
MNG003 - Floods in Ulaanbaatar
Last updated 27/07/2023
---
MNG002 - Dzud in Mongolia
Last updated 31/07/2023
---
Drivers
Other seasonal event

Severity level
2.4 Medium
Analysis products


on Mongolia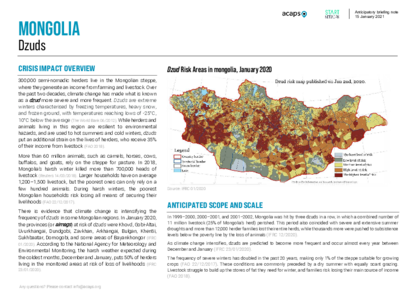 15 January 2021
Mongolia: Dzuds
DOCUMENT / PDF / 275 KB
300,000 semi-nomadic herders live in the Mongolian steppe. Over the past two decades, climate change has made what is known as a dzud more severe and more frequent. While herders and animals living in this region are resilient to environmental hazards, dzuds put an additional strain on the lives of herders, who receive 35% of their income from livestock.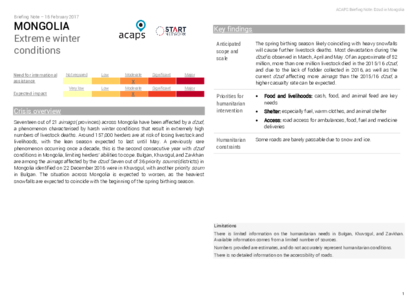 16 February 2017
Mongolia: Extreme winter conditions
DOCUMENT / PDF / 429 KB
17 out of 21 aimags (provinces) across Mongolia have been affected by a dzud, a phenomenon characterised by harsh winter conditions that result in extremely high numbers of livestock deaths. Around 157,000 herders are at risk of losing livestock and livelihoods, with the lean season expected to last until May.
View more