Analysis products


on Ghana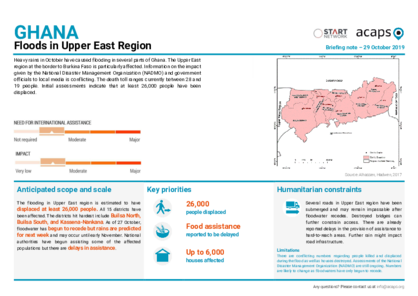 29 October 2019
Ghana: Floods
DOCUMENT / PDF / 447 KB
Heavy rains in October have caused flooding in several parts of Ghana. The Upper East region at the border to Burkina Faso is particularly affected. Information on the impact given by the National Disaster Management Organization (NADMO) and government officials to local media is conflicting. The death toll ranges currently between 28 and 19 people. Initial assessments indicate that at least 26,000 people have been displaced.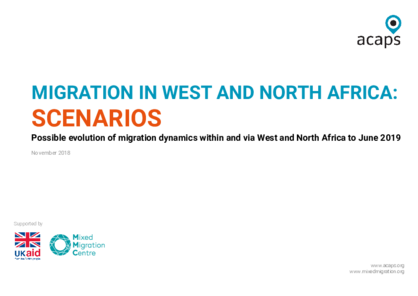 30 November 2018
Migration in West and North Africa
DOCUMENT / PDF / 855 KB
These scenarios consider how migration dynamics within and via West and North Africa (including across the Mediterranean Sea) might evolve in the first half of 2019 and the potential humanitarian consequences. The aim is to support strategic planning, create awareness and promote preparedness activities for policymakers and other actors working on migration.
View more