current crises


in Congo
---
These crises have been identified through the INFORM Severity Index, a tool for measuring and comparing the severity of humanitarian crises globally.
COG001 - Complex crisis
Last updated 30/11/2023
---
Severity level
2.3 Medium
Analysis products


on Congo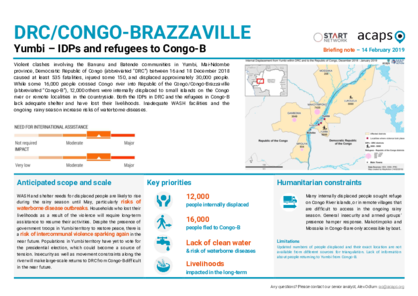 14 February 2019
DRC: IDPs and refugees to Congo-Brazzaville
DOCUMENT / PDF / 622 KB
Violent clashes involving the Banunu and Batende communities in Yumbi, Mai-Ndombe province, DRC between 16 and 18 December 2018 caused at least 535 fatalities, injured some 150, and displaced approximately 30,000 people. Both the IDPs in DRC and the refugees in Congo-B lack adequate shelter and have lost their livelihoods.
06 June 2017
Republic of Congo: Conflict in Pool department
DOCUMENT / PDF / 475 KB
Since late September, several armed clashes between government forces and militia Nsilulu, also known as Ninja, have occurred in Pool Department. According to the government, more than 60 fatal attacks have been carried out. According to the latest census in 2007, more than 126,000 people are living in these areas and have been affected by the conflict. At least 23,000 people have been displaced since March 2016.
View more