Analysis products


on Belarus
01 July 2022
Migration crisis on the Poland-Belarus border
DOCUMENT / PDF / 330 KB
This report outlines the living conditions and needs of migrants and asylum seekers stranded in the Poland-Belarus border area as a result of a political crisis and migration policies. It is an update of a similar ACAPS report published in December 2021.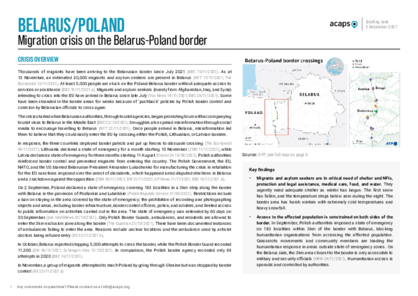 02 December 2021
Migration crisis on the Belarus-Poland border
DOCUMENT / PDF / 610 KB
Thousands of migrants have been arriving to the Belarusian border since July 2021. As at 13 November, an estimated 20,000 migrants and asylum seekers are present in Belarus. At least 5,000 people are stuck on the Poland-Belarus border without adequate access to services or assistance.
View more